Hobbit Music Store
If you enjoy my hobbit music, you can find my hobbit songs on these fun albums. If you no longer buy music, but want to help me to keep creating it, please join the Gunn Runners Club on Patreon.
There you are at the Sign of the Prancing Pony in Bree, when you hear the sounds of rollicking song inside. You push open the heavy oak door to see small hobbits dancing on the bar, spilling beer and singing at the top of their lungs. Little did you know that there are scores of great hobbit drinking songs. Marc Gunn, The Celtfather, met up with Daisy Brambleburr of Bindbale Wood (aka Rie Sheridan Rose) in Hobbiton to discuss and share the drinking songs of the hobbits. He came back with a plethora of great songs and tunes to share in his newest album.
Tracks: A Working in the Garden, Scouring the Shire, Don't Go Drinking With Hobbits, Elves, The Ring of Hope, Prancing Pony, Said the Horse to the Hobbit, Let's Get Drunk Tonite, Everybody Needs a Drinking Song, Rose, We'll Have a Pint of Stout, The Shire Polkas, A Well-Dressed Hobbit, Hobbit Birthday Song, Bilbo's Farewell, Wildflowers of Party Field, Cat and Rat, Do You Fancy a Drink?, The Hobbit Journey Home, Raise a Glass in Parting.
Imagine all-natural, soothing and fun, acoustic music from long ago. Now, remember hearing the music of Hobbiton and Rivendell? That's Memories of Middle Earth, a Celtic Folk tribute to JRR Tolkien's The Hobbit & Lord of the Rings.
Tracks: TOLKIEN (The Hobbit & Lord of the Rings), Moria, The Heart of Fangorn, Hobbit's Dance, Lothlorien, Like a Hobbit in a Mushroom Field, Weathertop, Fellowship of the Ring, The Ring of Hope, Galadriel's Mirror, Shadowfax, Breaking of the Fellowship, Legolas, The Grey & The White, Now It's Time To Go (Bilbo's Farewell Song), Psychopathic, Chronic, Schizophrenic Gollum Blues.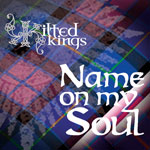 Become the Hero of an Epic adventure of powerful Celtic World music. Sing. Dance. Smile. Because we wear kilts, and You are royalty! Kilted Kings features Marc Gunn on autoharp and vocals and Randy Wothke on percussion.
Tracks:Slainte Mhaith, Purple Flower, Blue Sun, Wild Mountain Thyme, Marionette Jig / Spinner's Reel, Ride On, Prettiest Hobbit, Cloghden More, Flower of Scotland, Name On My Soul
In one hand, a pint of Mudder's Milk, in the other a bottle of Romulan Ale. Sing and laugh along with this Celtic Geek musical gem. Drinking can be found throughout the universe from Earth to Praxis, from Canton to Skaro. Come on, you know Davros was drinking something when he came up with the Daleks. In fact, I think The Doctor was there drinking with him. Sci Fi Drinking Songs are fun songs designed to make us laugh, cry, smile, and above all SING!
Tracks: Pan-Galactic Gargle Blaster, Doctor of Gallifrey, Bring Me Home, Boys, Reavers, Malcolm, Reavers, Isn't It Grand Boys to Be Walking Undead, Jedi Drinking Song Prequel, Those Characters Died, The Smial or the Tree, Romulan Ale, La La La Geeks, Free Brains, Browncoats Keep Flyin', Jedi's Dargle, A Boy and His Frog, Come Take a Trip on my Airship
Do you send Christmas? Do you love Celtic music? Then share the gift of music with Celtic Christmas Greeting by Marc Gunn. Next time you go looking for Celtic Christmas CDs, you may find as much trouble as Gunn had before he released his album. There were plenty of albums that were Celtic OR Christmas, but they were rarely both. The Celtfather pulls in some great Celtic musicians and some outstanding songwriting to provide a truly CELTIC CHRISTMAS sound.
Tracks: Let's Have a Celtic Christmas, God Rest Ye Merry, Gentlemen, Celtic Christmas Elf, Christmas in Scotland, Christmas in Killarney, The Scottish King of Christmas, Jingle Bells, Frosty the Irish Snowman, Snowfall, Silent Night, Christmas in the Shire
Folk music with delusions of grandeur. Fun Sci Fi and fantasy folk music performed acoustically on the autoharp with a ton of character. Features songs based on Star Wars, Bugs Bunny, Harry Potter, Firefly, Lord of the Rings, and even one of Marc's first publicly shared songs
Tracks: Don't Go Drinking with Hobbits, A Rabbit for Halloween, Samwise Gamgee, The Virgin Diet (How to Have Fun Losing Weight), How Do You Tell a Woman You're in Love with Her?, Pleasant Peasant Pheasant Plucking Song, She Said Her Name Was Saffron (Our Mrs. Reynolds), Monkeys Over Mongolia, Lusty Young Sith, For the Setting Sun, If I Were a Horse, The Last Chicken in Dublin, Pig's Song, I Saved the Planet Earth, The Nazgul Song, Gollum Blues, My Father Was a Werewolf.
Take a breath. Listen. A pathway to fairy fields and drifting clouds, to magical realms and deepest dreams. Marc Gunn's very first album of instrumental autoharp music. It's soothing beautiful music. With tunes inspired by fairy tales, Harry Potter, Lord of the Rings, Stardust, and Dungeons & Dragons, and Italy. Heart's Ease is a gateway to peace of mind.
Tracks: Stardust Serenade, Heart's Ease, She Vanished in the Mist, Songwind, The Mage of Mirth, Desire, Amber Wednesday, Fairy Tale Waltz, Summer's End, Wildflowers of Party Field, Return to Lonely Mountain, Song of Assisi, Phoenix Tears, Of Twilight Shores.
Marc's very first acoustic solo CD. This album features a beautiful mix of romantic ballads on autoharp and a capella. It's an intimate look at Celtic music through the eyes of one of it's strongest supporters.
Tracks: The Bridge, The Lady of Setliff Manor, Killiecrankie, The Parting Glass, My Titania, Wake You, My Sweet Queen, The Leprechaun (You're No Irish Laddie!), The Barrel Song, Lanigan's Ball, Middle Earth Bragging Song, Happy Birthday from Ireland, Kyara, Elven Mistress of Whispers, My Love Is Like a Red, Red Rose, Buttercup's Lament (Princess Bride).
HOBBIT SONGS | LISTEN | PODCASTS | FACEBOOK | LISTEN ON SPOTIFY